Christian Seminary
Christian Seminaries
Bible Seminary
Biblical Seminaries
Biblical Seminary
Bible Seminaries
Bible Education
Bible School
Biblical Education
Biblical School
Bible College
Biblical College
Christian College
Bible Degrees
Biblical Degrees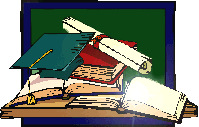 Our Vision Statement
Jacksonville Theological Seminary and Revelation Message Bible College are committed to the purpose of training already committed believers for a lifetime of productive service unto The Lord Jesus Christ and His Church.

Our courses are centered on the Bible, which we believe to be the Word of God. Our endeavor is to create a hunger for His Word and a proficiency in "declaring" the gospel of Jesus Christ through proper communication skills.

You can learn more about Jacksonville Theological Seminary and Revelation Message Bible College such as our accreditation by clicking on various links in our directory below.

We are now offering Ministry Degrees that do not require a paper. We also have monthly payment plans. You can contact Dr. Ron Campbell by phone at 1-239-770-8804. He can also be reached via e-mail.

What Is a Facilitator?
One of the things RMBC and JTS is doing to help students benefit more from their learning experience is to train and place facilitators in strategic places around the country (and the world). These facilitators are, in most cases, people who have finished their course of study with RMBC and JTS.

It is the desire of these facilitators to give back to RMBC and JTS in appreciation for what they have received. Thus, they have a strong desire to help others be equipped for the ministry. They are capable of answering questions concerning your course of study as well as providing you with information about RMBC and JTS.

The Fort Myers, Florida Facilitator is Dr. Ron Campbell.

Our Location
This Jacksonville Theological Seminary and Revelation Message Bible College website is located in Fort Myers, Florida and run by the Fort Myers Facilitator Dr. Ron Campbell.

The headquarters for JTS and RMBC can be found below:

Jacksonville Theological Seminary & Revelation Message Bible College
1709 St. Johns Bluff Road
North Jacksonville, Florida 32225

JTS and RMBC serve students in all 50 states and around the world.



You are visitor #
since February 1, 1999
Back to "Christian Stores"

Back to the "Christ-Centered Mall"



All scans done by Christ-Centered Mall are prohibited from being copied.
All applicable copyright© laws apply and are reserved by Christ-Centered Mall.
Web pages copyright© 1998-2013.