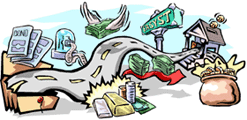 Pricing refers to the cost of a particular art
piece, and it is dependent on availability.

Due to the constant fluctuation of the print
market, print prices and inventory can
change quite rapidly. We make every effort
to keep our website information current;
however, some prints shown may be sold
out at the publisher and in high demand.

If you would like more information about
pricing and availability, please read our
Gallery Disclaimer.





Availability refers to whether or not the
item(s) you ordered are in stock.

Framed products are usually made to order
and may take a few extra days. Other items
may be temporarily out of stock but will
ship as soon as they are available. Also,
order processing time may take an extra
day or two, depending on the number of
orders we have to process.

Actual shipping time for an order is based
on the shipping method you choose.





Feel free to contact us if you would like to
check stock on an item. If an item on your
order is out of stock, we will notify you by
phone or e-mail as soon as possible. Your
credit card will be charged only when the
item is available to ship.