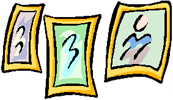 Christ-Centered Art offers both framed and
unframed art for your walls. Currently, we
don't offer custom framing, but many of the
the prints we sell are available already
framed at the publisher.





If you're ordering an art print listed with a
framed icon, you may only purchase the
print with the framed and mats indicated.





If you're ordering a Thomas Kinkade canvas
lithograph, you can choose from any of
the following four authentic Thomas Kinkade
frames pictured below: antique gold, brandy,
burl, and dark walnut.








Please call us toll-free at 1-877-843-9278
for price quotes on brand new authentic
Thomas Kinkade frames.





We now offer framing for canvases which
are currently available at Somerset House.
Now you can have framed artwork by your
favorite artists such as Ron DiCianni, Tom
duBois, Kathryn Andrews Fincher, Nancy
Glazier, and G. Harvey delivered right to
your door.





To discuss framing options and discount
pricing on items from Somerset House,
please call our art gallery toll-free at
1-877-843-9278 (VIEW-ART).