Introduction

The
Gospel of Jesus Christ
is by far the most magnificent love story ever. It involves a divine mission, a passionate Lover, a dazzling bride, a wicked foe, and an eternal inheritance. This marvelous Gospel (literally,
good news
) is woven throughout the pages of the Holy Bible, and it is life-changing reality!
We invite you to join us as we search the Scriptures for a clearer understanding of the Gospel and salvation. Please open your heart and mind to the guidance of the Holy Spirit, because our quest just might uncover some gemstones of truth that have been obscured by traditions of men.
What is Salvation?

At the heart of the Gospel is the
message
of salvation. The word
salvation
means
deliverance, preservation, and safety from harm or loss
. This term implies that a person in need of salvation cannot save himself and is in a completely hopeless situation apart from a Savior. Such is the desperate condition of every person as a result of sin.
The Bible tells us that
sin
is what separates mankind from God:
"But your iniquities have separated between you and your God, and your sins have hid his face from you, that he will not hear"
(Isaiah 59:2). All of humanity exists in this separated state:
"For all have sinned, and come short of the glory of God"
(Romans 3:23). Even the best efforts and good works (righteousness) of mankind are as filthy rags in the sight of a holy God (see Isaiah 64:6). Because of sin, every person on earth faces death, which is permanent separation from the life of God:
"For the wages of sin is death; but the gift of God is eternal life through Jesus Christ our Lord"
(Romans 6:23).
The good news is that God (Jehovah) is rich in mercy, and He has provided a means of escape, or
salvation
, from the wages of sin. This way of salvation is not based on anything we have done (see Ephesians 2:4-9), but it is offered to mankind because of God's abundant love and mercy. His salvation comes through His Son,
Jesus Christ
,
"Who, being in the form of God, thought it not robbery to be equal with God: but made himself of no reputation, and took upon him the form of a servant, and was made in the likeness of men: and being found in fashion as a man, he humbled himself, and became obedient unto death, even the death of the cross. Wherefore God also hath highly exalted him, and given him a name which is above every name"
(Philippians 2:6-9). Jesus was and is the perfect, sinless Lamb of God, sacrificed for your sins to satisfy the law of
God's justice.
"And ye know that he was manifested to take away our sins; and in him is no sin"
(I John 3:5; also see Hebrews 4:15, 7:26; I Peter 2:22).
Furthermore, Jesus (Messiah Yeshua) was raised from the dead after three days into a glorified, immortal body by the power of God. The fact of Christ's resurrection is essential, for the Bible says,
"if Christ be not raised, your faith is vain; ye are yet in your sins"
(I Corinthians 15:17). Because Jesus died on the cross, we can have forgiveness of sins; because He rose from the dead, we can have eternal life. Jesus said,
"And this is life eternal, that they might know thee the only true God, and Jesus Christ, whom thou hast sent"
(John 17:3). Thus, eternal life is not a religion but a
relationship
with the One True God and His Son, Jesus Christ. Jesus is God's salvation, sent to mankind so that
whosoever believes in Him should not perish in their sins but instead receive salvation, which is eternal life (John 3:16).
Salvation is available to "whosoever believes" in Jesus, no matter how sinful their past, all because of the love and kindness of God:
"For we ourselves also were sometimes foolish, disobedient, deceived, serving divers lusts and pleasures, living in malice and envy, hateful, and hating one another. But after that the kindness and love of God our Savior toward man appeared, not by works of righteousness which we have done, but according to his mercy he saved us, by the washing of regeneration, and renewing of the Holy Ghost; which he shed on us abundantly through Jesus Christ our Savior; that being justified by his grace, we should be made heirs according to the hope of eternal life"
(Titus 3:3-7).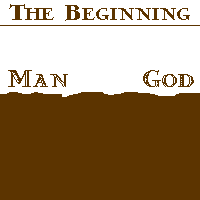 Jesus (Yeshua) is the
only
Savior, the
only
way of salvation that God has provided for mankind. There is no other way to be saved, for the Bible says,
"Neither is there salvation in any other: for there is none other name under heaven given among men, whereby we must be saved."
(Acts 4:12). Jesus said,
"I am the way, the truth, and the life: no man cometh unto the Father, but by me"
(John 14:6). And,
"if ye believe not that I am he, ye shall die in your sins."
(John 8:24). Salvation cannot be obtained through Mary, the Pope, Buddha, Allah, or any other way except through
Jesus Christ
. Christ alone has fulfilled the necessary requirements to do away with sin once and for all.
"For Christ also died for sins once for all, the just for the unjust, so that He might bring us
to God, having been put to death in the flesh, but made alive in the spirit"
(I Peter 3:18).
The grace and mercy of God calls a person to salvation. Can a person reject God's salvation? Yes, certainly! But it is foolish to do so, for
"how shall we escape, if we neglect so great salvation?"
(Hebrews 2:3). Beyond the finished work of Christ's death and resurrection, there is
no other sacrifice
by which a person may be saved.
"For if we sin wilfully after that we have received the knowledge of the truth, there remaineth no more sacrifice for sins"
(Hebrews 10:26).
For more information on how you can receive Jesus as your Savior, please read the
biblical steps to salvation
.