= Unframed art print



= Framed art print



= Print comes framed
as shown straight
from manufacturer.



= Print caption



= Artwork is selling
below its original
issue price for sale
purposes.



= Artwork is selling
at its original issue
price as set by the
artist's publisher.



= Artwork is selling
above its original
issue price because
the distributor has
raised its prices or
the publisher has
sold out of the print.



= Standard ground
shipping in the
Continental U.S.



Express shipping
and international
shipping require
additional fees.



Please call us
for a quote on
express shipping
and international
shipping rates.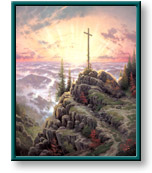 Click on the

for a closer look





"As we approach the year 2000, I feel
compelled as an artist to celebrate not the
passing of the old millennium but the
beginning of the new millennium. To me the
new millennium represents a pivotal point
in human history — a chance to change the
world for the better.

"As I ponder the events of the last one
thousand years, I see much evidence of
the darkness of this world. Yet rather than
spend our time cursing the darkness, if
each of us would let our light shine the
world would be a much brighter place
indeed. I truly believe that this next
millennium will come to be characterized as
the 'Millennium of Light', and I pray my
Sunrise painting will be symbolic of a new
dawning of God's grace and love in the
years ahead.

"Let's pray together that God's light will
shine anew in the new millennium."

-- Thomas Kinkade
[go back]











You can purchase artwork from us by any of the following methods:



Internet - Visit the secure order form on our website to place an order safely online.



Phone - Call us to place an order by telephone.



Fax - Fax us to place an order by facsimile.



Mail - Send check, cashiers check, or money order by mail. However, please call us first for the
shipping charges. Our address and local telephone number can be found under contact information.



Our gallery accepts all 4 major credit cards: Visa, MasterCard, American Express, and Discover.
We also accept checks, cashiers checks, debit cards, U.S. money orders, and international
money orders. Please note: International money orders must be drawn from a U.S. bank.







Sunrise copyright © 1999 by Thomas Kinkade is prohibited from being copied.
All applicable copyright © laws apply and are reserved by the artist Thomas Kinkade.
Web pages copyright © 1998-2007 by Christ-Centered Mall, Inc. All Rights Reserved.