= Print is available but not pictured. Please call for a price quote.



= New release



= Unframed art print


= Framed art print


= Print is selling below its issue price.



= Print is selling at its original issue price.



= Print is signed but not numbered.



= Artist Proof
A premium signed and numbered (S&N) print edition denoted by the abbreviation A/P.



= Remarque
A small original drawing or painting done in the margin area of a print.


= Size of art print



= Year of issue



= Place your order securely online with any major credit card.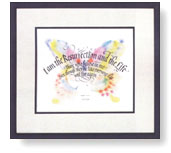 Click on the

for a closer look



Butterfly by Timothy R. Botts depicts the image of a butterfly to symbolize new life and illustrates Christ's statement to Martha, the sister of Lazarus, before Jesus raised Lazarus from the dead.


"I am the Resurrection and the Life. Those who believe in Me even though they die like everyone else will live again."
-- John 11:25


This print was issued & released in 2002.







Unframed Paper
Image Size:
13" x 16"
Edition Size:
Open
Original Issue Price:
N/A
Our Current Price:
Discontinued
Place your order safely on our VeriSign secured server.



Framed Paper
Framed Size:
17.5" x 20.5"
Edition Size:
Open
Original Issue Price:
N/A
Our Current Price:
Discontinued
Frame Description:

Comes in your choice of a gold or wood frame with off-white matting.
Framed Print Caption:

"I am the Resurrection and the Life. Those who believe in Me even though they die like everyone else will live again."

-- John 11:25