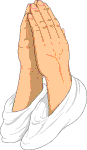 Please feel free to submit your prayer requests to us so we can come into agreement with you; for Jesus says in Matthew 18:19: "That if two of you shall agree on earth as touching any thing that they shall ask, it shall be done for them of my Father which is in heaven"; and James 4:2 says that "we have not because we ask not."

Remember, anything we ask of God the Father in Jesus name must be promised in His Word and be in His will (Romans 8:27); we must not "ask amiss" (James 4:3). We need to "be anxious for nothing; but in every thing by prayer and supplication with thanksgiving, let our requests be made known unto God" (Philippians 4:6). Finally, claim what God told Jeremiah in Jeremiah 32:27: "Behold, I am the Lord, the God of all flesh: is there any thing too hard for me?"

Please fill out the following information and press the SUBMIT button




Back to the "Kids Zone"

All scans done by the Christ-Centered Mall are prohibited from being copied.
All applicable copyright© laws apply and are reserved by the Christ-Centered Mall.
Web pages copyright© 1998-2007.