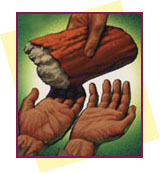 Goodness
Goodness is holiness put into practice and results from knowing God. Once you have this knowledge, goodness is supernaturally produced in you (Romans 15:14)

Goodness enables you to do good to those who hate you (Luke 6:27) as well as those of the household of faith (Galatians 6:10). It is the goodness of God that leads men to repentance. That's why we need to be good to people. Our witness won't have any power unless we are kind. We are called to be light in a dark world, and we must make up our minds that we are going to shine!


| | |
| --- | --- |
| Psalm 23:6 | "Surely goodness and mercy shall follow me all the days of my life; and I will dwell in the house of the Lord forever." |
| | |
| --- | --- |
| Psalm 52:1 | "The goodness of God endureth continually." |





Back to the "Christ-Centered Mall"

This teaching was written by David Holt Boshart, Jr.
All scans done by Christ-Centered Mall, Inc. are prohibited from being copied.
All applicable copyright© laws apply and are reserved by Christ-Centered Mall.
Web pages copyright© 1998-2006.