Story of Gethsemane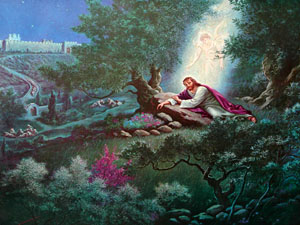 Warner Sallman open and limited edition art prints and canvases of Story of Gethsemane for sale painted by artist Warner Sallman.

Click on the

for a closer look


| | | | |
| --- | --- | --- | --- |
| Artist | Title | Year | Series |
| Warner Sallman | Story of Gethsemane | 1964 | Single Release |

Unframed Paper
Image Size
Edition Size
Original Issue Price
Our Price
16" x 20"
Open
N/A
Sold Out
22" x 28"
Open
N/A
$48.00
Please add $8.00 for shipping, handling, and insurance.
Place your order securely online or call us to place an order by phone.

Image Description
The Story of Gethsemane by Warner Sallman unfolds the events of that sorrowful night. An angel ministered to Jesus while He prayed, His disciples slept in the shadows, the band of chief priests and Pharisees approached the Garden's entrance, and the city of Jerusalem slept in the distance. In just moments, the serene Garden of Gethsemane would be invaded. Jesus' disciples would be aroused and scattered, and Jesus would be betrayed and put under arrest.

Warner Sallman Limited Edition Art Prints and Canvases
A-Z


How to Order


You can purchase artwork from us by any of the following methods:



Internet - Visit the secure order form on our website to place an order safely online.



Phone - Call us to place an order by telephone.



Fax - Fax us to place an order by facsimile.



Mail - Send check, cashiers check, or money order by mail. However, please call us first for the
shipping charges. Our address and local telephone number can be found under contact information.



Our gallery accepts all 4 major credit cards: Visa, MasterCard, American Express, and Discover.
We also accept checks, cashiers checks, debit cards, U.S. money orders, and international
money orders. Please note: International money orders must be drawn from a U.S. bank.





This website was designed and programmed by

David's Web Creations

, and you're visitor #



Story of Gethsemane by Warner Sallman
Story of Gethsemane painting by artist Warner Sallman can be purchased in art print or canvas form at special sale prices at Christ-Centered Art.