= Print is available framed straight from the publishing company.



= Print caption



= New release



= Unframed art print



= Framed art print



= Print is selling below its original issue price for sale purposes.



= Print is selling at its original issue price.



= Print is selling above its original issue price because either the distribution center has raised its prices or the publishing house is sold out of the print.



= An open edition print signed by the artist but not numbered. They are printed on a lighter weight paper stock and are smaller in size than limited editions.



= Artist Proof
A premium signed and numbered print denoted by the abbreviation A/P.



= Remarque
A premium signed and numbered print which includes a small original drawing or painting in the margin area.



= Place your order securely online with any major credit card.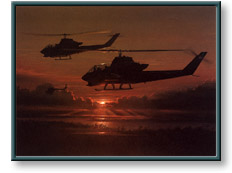 Click on the

for a closer look






Bill Phillips served in Vietnam, so it is from personal experience that he paints the conflict there. He describes "Heading for Trouble" in these words:

"As dawn breaks in Northern South Vietnam, two AH-1G's of F Troop, 4th Cavalry, begin a search-and-destroy sweep led by an OH-6A Loach. Though heavily armed, both the scouts and the gunships were in constant danger from hostile ground fire. These conditions and the close proximity to the ground required the utmost in skill and courage from each crew...
for every time they flew they were 'heading for trouble.' "





Signed & Numbered Paper
Image Size:
12.5" x 16.75"
Edition Size:
1,000 S/N
Original Issue Price:
$125.00
Our Current Price:
Wanted
Place your order safely on our VeriSign secure server.
This item comes with free shipping!
Immediately go to the top of this page.