Love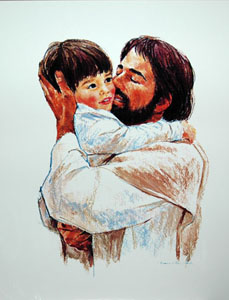 Frances Hook limited edition art prints and canvases of Love for sale painted by artist Frances Hook.

Click on the

for a closer look



Unframed Paper
Image Size
Edition Size
Original Issue Price
Our Price
10" x 8"
Open
N/A
$24.50
14" x 11"
Open
N/A
Sold Out
Please add $9.00 for shipping & handling.
Place your order securely online or call us to place an order by phone.

Image Description
The theme of this painting, Love, comes from Mark 10:13-16:

"And they brought young children to him, that he should touch them: and his disciples rebuked those that brought them. But when Jesus saw it, he was much displeased, and said unto them, Suffer the little children to come unto me, and forbid them not: for of such is the kingdom of God. Verily I say unto you, Whosoever shall not receive the kingdom of God as a little child, he shall not enter therein. And he took them up in his arms, put his hands upon them, and blessed them."

Frances Hook Art Prints
A-Z

Richard Hook Art Prints
A-Z


How to Order


You can purchase artwork from us by any of the following methods:



Internet - Visit the secure order form on our website to place an order safely online.



Phone - Call us to place an order by telephone.



Fax - Fax us to place an order by facsimile.



Mail - Send check, cashiers check, or money order by mail. However, please call us first for the
shipping charges. Our address and local telephone number can be found under contact information.



Our gallery accepts all 4 major credit cards: Visa, MasterCard, American Express, and Discover.
We also accept checks, cashiers checks, debit cards, U.S. money orders, and international
money orders. Please note: International money orders must be drawn from a U.S. bank.





This website was designed and programmed by

David's Web Creations

, and you're visitor #



Love by Frances and Richard Hook
Love painting by artist Frances and Richard Hook can be purchased in art print form at special sale prices at Christ-Centered Art.