= Print is available framed straight from the publishing company.



= Print caption



= New release



= Unframed art print



= Framed art print



= Print is selling below its original issue price for sale purposes.



= Print is selling at its original issue price.



= Print is selling above its original issue price because either the distribution center has raised its prices or the publishing house is sold out of the print.



= An open edition print signed by the artist but not numbered. They are printed on a lighter weight paper stock and are smaller in size than limited editions.



= Artist Proof
A premium signed and numbered print denoted by the abbreviation A/P.



= Remarque
A premium signed and numbered print which includes a small original drawing or painting in the margin area.



= Place your order securely online with any major credit card.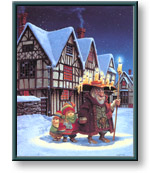 Click on the

for a closer look






If you wander the cobblestone streets at night, you can feel secure in the golden circle of light cast by James C. Christensen's delightful new work, The Candleman.

The children, wide-eyed and wondering, will be safe although it's late and they're far from home. The trusty candleman, his hat abrim with burning candles, will escort them home through the still white silence of the snow-covered streets by the light of his torch.





Signed & Numbered Paper
Image Size:
21.5" x 16.875"
Edition Size:
850 S/N
Original Issue Price:
$160.00
Our Current Price:
$698.00
Place your order safely on our VeriSign secure server.


This item comes with free shipping!
Immediately go to the top of this page.