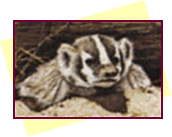 July 1998
The earth is full of small, virtually unnoticed creatures; yet the ancient wise man Agur points out (in the Old Testament book of Proverbs) four inconspicuous species possessing attractive traits and using wisdom: the ant, the rock badger, the locust (grasshopper), and the spider (lizard). In the New Testament, Jesus also commends birds (Matthew 6:26-27) for possessing great faith.


(1) Ant



Go to the ant, you sluggard! Consider her ways, and be wise. Which having no captain, overseer, or ruler, provides her supplies in the summer, and gathers her food in the harvest.

--- Proverbs 6:6-8



The ants are a people not strong, yet they prepare their food in the summer.

--- Proverbs 30:25



Ants are truly wise little creatures. For example, they know instinctively that winter is coming; therefore, they take advantage of the warmer weather. We have all seen them at picnics; while you're dousing your hamburger with ketchup and chugging down a soda, they're marching off with your french fries! No the ants will not gorge themselves on their new found treasure, but instead, they will fill their storehouses so that when the harsh winter comes, they will have enough food to sustain themselves.

For us, the first step in "preparing for winter" is to accept Jesus Christ into our hearts. Paul warns us in II Corinthians 6:2 that "now is the day of salvation." Once we are saved, we as new believers might think that our work is done; on the contrary, our work has just begun. If we are to display the "wisdom of ants," we'll prepare for "winter." We can equip ourselves for difficult times by storing up God's Word in our hearts (Psalm 119:11) and by praying without ceasing (I Thessalonians 5:17). Then, when we face the blizzards of life, we'll know right where to find food for our spirit (Luke 8:13).
See Spiritual Weapons teaching

We as Christians need to be opportunists like the ants. We must be diligent, not lazy or sluggish. We need to tackle projects (like homework and housework) right away and not put them off.


Quotes:

"Next time you see an ant, remember: winter is coming! The best time to prepare for tomorrow is today."

--- Haddon W. Robinson

"The humble ant's keen industry
Can teach us all a lesson,
If in nature we will see
God's classroom is in session."

--- Gustafson
(2) Rock Badger


The rock badgers are a feeble (physically weak) folk, yet they make their homes in the crags.

--- Proverbs 30:26


We as Christians can also learn a lot from the rock badger. This small, fiesty animal (also called a coney or hyrax) knows exactly where to go when danger comes.

The large tattered crags jutting up from the mountains form a perfect hiding place for the badger. For example, if an eagle decides to swoops down and capture this fiesty little animal for a meal, he is protected by the rock. The eagle would virtually have to tear the entire mountain apart to get to its prey!

Another way the rock badger avoids danger is by camouflaging himself to the color of the mountain. Therefore, if a lion is on the prowl for lunch, the badger goes undetected and remains safe and secure because he dwells in the safety of the rocks. However, if the badger carelessly wanders away into the grassland, he is a wide-open target. Thus, the apostle Peter urges us to "Be sober, be vigilant; because our adversary the devil, as a roaring lion, walketh about seeking whom he may devour" (I Peter 5:8).

The most courageous badger in the world is no match for even the smallest lion! Fortunately, the badger is wise enough to know that his strength lies not in what he can do, but what the mountain's shelter can do for him.

If you have the brains of a badger, you'll figure out where your strength lies -- in the "firm foundation" (II Timothy 2:19) of the mountain being Jesus Christ who is the Rock of our salvation. "Be strong in the Lord," the Scripture urges us, "and in the power of His might" (Eph. 6:10). That's right! It's not by (our) might, nor by (our) power, but by His Spirit, saith the Lord of hosts" (Zechariah 4:6).

There are several scriptures mentioning Jesus Christ as being the Rock; here are a few:


After being delivered from the hands of his enemies, David cried out: "The Lord is my rock and my fortress, and my deliverer; the God of my rock; in him will I trust; he is my shield, and the horn of my salvation, my high tower, and my refuge, my saviour; thou savest me from violence. I will call upon the Lord, who is worthy to be praised; so shall I be saved from my enemies." (2 Samuel 22:2-4)

Hannah (the mother of Samuel) prayed, "There is none holy as the Lord: for there is none beside thee: neither is there any rock like our God." (I Samuel 2:2)

David, feeling overwhelmed with sorrow, cried out to God: "Lead me to the rock that is higher than I." (Psalm 61:2)

David, reflecting on prior victories, praises God by saying: "The Lord also will be a refuge for the oppressed, a refuge in times of trouble" (Psalm 9:10)

David prays to God for His forgiveness, deliverance, and protection: "Bow down thine ear to me; deliver me speedily: be thou my strong rock, for an house of defense to save me. For thou art my rock and my fortress; therefore for thy name's sake lead me, and guide me." (Psalm 31:2-3)

David reflects on how God has helped him in the past: "He brought me up also out of an horrible pit, out of the miry clay, and set my feet upon a rock, and established my goings." (Psalm 40:2)

David celebrated a victory over his enemies by praising God with this psalm: "The Lord liveth; and blessed be my rock; and let the God of my salvation be exalted." (Psalm 18:46)
We as Christians will experience trials and tribulations in our lives; and, at many times, we may feel weak. But Paul says in I Corinthians 12:9-10, "When I am weak, He (Jesus) is strong." Therefore, we must build our foundation on the Rock -- Jesus Christ.

Jesus tells us in Matthew 7:24-25 that "whosoever heareth these sayings of mine, and doeth them, I will like him unto a wise man, which built his house upon a rock: And the rains came, and the winds blew, and beat upon that house; and it fell not: for it was founded upon a rock." That's right! If we are both hearers and doers of His word (James 1:22), Jesus will fight our battles for us! "If God be for us, who can be against us?" (Romans 8:31)


Quotes:

"Badgers know where their strength lies. Do you?"

-- Haddon W. Robinson

"He cannot fail, your faithful God,
He'll guard you with His mighty power;
Then fear no ill though troubles rise,
His help is sure from hour to hour."

--- Henry G. Bosch
(3) Locust/Grasshopper


The locusts have no king, yet they all advance in ranks.

--- Proverbs 30:27

Let us consider one another in order to stir up love and good works.

--- Hebrews 10:24


One little grasshopper seems insignificant as it leaps across the lawn; but when it joins forces with other grasshoppers, watch out! The resulting swarm can soon devour all the vegetation in its path. That's because grasshoppers demonstrate the power of community. What they cannot do by themselves, they can accomplish together.

We can also learn a valuable lesson from these small creatures. Believers can make far greater advances for Christ's cause when they act and pray together than they could ever make alone. When Christians are united in serving the Lord, they can become a mighty force for God.

Although the New Testament urges us to possess a personal faith in Jesus Christ and to go into our "prayer closet," it never says anything at all about a private faith. Simply put: we need other believers, and other believers need us. In Hebrews 10:25, Paul urges us "not to forsake the assembling of ourselves together"; therefore, we should regularly attend church to help build each other up and meet each others needs.

Remember: there are no Lone Rangers in the kingdom of heaven. We as Christians must use teamwork and offer our time, talent, and treasure whenever it is needed. The locusts are all considered equal; this is also true with Christians. No Christian is better than another Christian. God is no respecter of persons (Ephesians 6:9). Locusts stick together and move in unison even without an obvious leader. Two Christians are better than one -- when they're one.


Quotes:

"Let's enjoy the strength and fellowship available in the unified body of Christ. An effective church will reflect "the good sense of the grasshopper" by its love and unity in the Holy Spirit."

--- Haddon W. Robinson

"We all depend upon the strength
We draw from one another,
For we are one in faith and love
With every Christian brother."

--- Sper


(4) Spider/Lizard



The spider skillfully grasps with its hands, and it is in king's palaces.

--- Proverbs 30:28


Most spiders and lizards are small and somewhat disgusting, yet it's amazing where they can go. Spiders and lizards can be seen lodging high up in 5-star hotels.

How do they get there? Did they climb the stairs or scale the walls? Did they take the elevator perhaps? Who knows? Spiders and lizards can sneak past guards and maids undetected and can even end up in the finest establishments. The author of Proverbs 30:28 marveled that spiders and lizards could be found even in the throne room of kings!

Something else that should cause us to marvel is the thought of who will live in the royal palaces of heaven.

Think of the Christians you may be tempted to avoid: The teenager with bleached hair, earrings, and tatoos you don't approve of. The guy with bad breath and body odor who gets a little too close to you when he speaks to you. The obese woman who sings rather loudly and a bit off-key. If you could see them now as one day they shall be, you would certainly marvel at their beauty! "For the Lord seeth not as seeth; for man looketh on the outward appearance, but the Lord looketh upon the heart." (I Samuel 16:7) Yes, that's right! It's not our appearance or hygiene that gets us into heaven; it's our hearts!

We as Christians will be sitting in king's palaces when we go to heaven. Jesus says in John 14:1-2: "In My Father's house are many mansions; if it were not so, I would have told you. I go to prepare a place for you."

However, this would not be the case if it were not for God the Father sending His only Son to die for our sins (John 3:16); for Romans 3:23 says that "all have sinned, and have come short of the glory of God." According to Isaiah 64:6, "We are all an unclean thing, and all our righteousnesses are as filthy rags." That's right! We all look like spiders and lizards to God without the blood of Jesus covering our sins! But praise God for the next two verses which say that we "being justified freely by his grace through the redemption that is in Christ Jesus: whom God hath set forth to be a propititiation through faith in his blood, to declare his righteousness for the remission of sins that are past, through the forbearance of God." (Romans 3:24-25)

Although our sins make us unlikely future residents of heaven, God's grace saves us so we will be able to inhabit heaven as sons and daughters of God (Ephesians 2:8-9). "There is neither Jew nor Greek, there is neither bond nor free, there is neither male nor female; for ye are all one in Christ Jesus." (Galatians 3:28, Colossians 3:11)


Quotes:

"In the mystery of grace, God takes unlikely people and puts them into His palace for eternity. And we don't have to climb the walls to get there. Wow!"

--- Haddon W. Robinson


(5) Bird



Look at the birds of the air, for they neither sow nor reap nor gather into barns; yet your heavenly Father feeds them. Are you not of more value than they? Which of you by worrying can add one cubit to his stature?.

--- Matthew 6:26-27

We as Christians need not worry what tomorrow brings. We need to take one day at a time, and believe God will provide for all of our needs each day and give us our daily bread." This request acknowledges that God ultimately provides for all of our needs. He gives each and every one of us different skills and strengths, jobs and income, and a world rich with resources. Therefore we have nothing to fear, but everything to believe in.


Quotes:

"Don't let the trials of this world ruffle your feathers; walk in faith."

--- David Holt Boshart, Jr.


Final Thought:

Foresight and planning, safe building, teamwork, excellence, and faith are valuable traits. If tiny creatures such as these exhibit such qualities, how much more should human beings, who have been created in God's image? Reflecting on these creatures, we do well to ask: "In what ways do we need to improve our work?"





Back to the "Christ-Centered Mall"

This teaching was written by David Holt Boshart, Jr.
All scans done by Christ-Centered Mall, Inc. are prohibited from being copied.
All applicable copyright© laws apply and are reserved by Christ-Centered Mall.
Web pages copyright© 1998-2006.