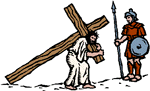 Prologue
Over 2,600 years ago, Isaiah the prophet predicted that God would send a Savior to save people from their sins so they could have eternal life and not have to face eternal torment.

Quoting from the book of Isaiah in the Bible: "For unto us a child is born, unto us a Son is given, and the government shall be upon His shoulder; and His name shall be called Wonderful, Counselor, the Mighty God, the Everlasting Father, the Prince of Peace. He was despised and rejected by men; a man of sorrows acquainted with grief. He was wounded for our transgressions, and He was bruised for our iniquities; the chastisement of our peace was upon Him; and by His stripes we are healed. He was oppressed, and He was afflicted; yet He opened not His mouth. He was brought as a lamb to the slaughter, yet it pleased God to bruise Him. God has put Him to grief, for He shall make His soul an offering for sin."

Approximately 600 years after this was written, Jesus fulfilled this prophecy. Here is His story.




Back to the "Christ-Centered Mall"

All scans done by Christ-Centered Mall, Inc. are prohibited from being copied.
All applicable copyright© laws apply and are reserved by Christ-Centered Mall.
Web pages copyright© 1998-2006.