= Print is available but not pictured. Please call for a price quote.



= New release.



= Unframed art print.



= Framed art print.



= Print selling below its original issue price.



= Print selling at its original issue price.



= Print is signed but not numbered.



= Artist Proof. The print is denoted by the abbreviation AP.



= Size of art print.



= Year of issue.



= Place order(s).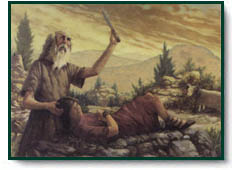 Click on the

for a closer look





Abraham and Isaac by Keith Newton depicts Abraham in the process of sacrificing his only son Isaac on Mount Moriah. This scene is described in Genesis 22:10-12:

"And Abraham stretched forth his hand, and took the knife to slay his son. And the angel of the LORD called unto him out of heaven, and said, Abraham, Abraham: and he said, Here am I. And he said, Lay not thine hand upon the lad, neither do thou any thing unto him: for now I know that thou fearest God, seeing thou hast not withheld thy son, thine only son from me."


This print was issued & released in 1999.




Signed Paper
Print Size:
19" x 22"
Edition Size:
Open
Original Issue Price:
N/A
Our Current Price:
Sold Out
Place your order safely on our VeriSign secured server.