Bedtime Story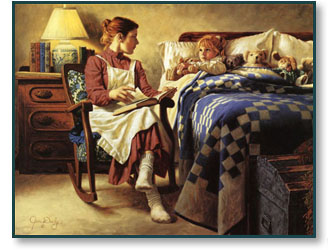 Click on the

for a closer look

| | | |
| --- | --- | --- |
| Title: | Artist: | Year of Release: |
| Bedtime Story | Jim Daly | 2001 |

Signed & Numbered Paper
Image Size:
Edition Size
Original Issue Price
Our Price
15" x 20"
550 S/N
$150.00
$129.50
Receive a limited-edition print of Her First Love at no additional charge
with the purchase of this print!

Print Description:

"No matter where the future leads," Jim says, "I'm sure one thing will never change: mothers will always read to their young children at bedtime and little listeners will cuddle close to their stuffed animals. I suppose this scene could have taken place any time between now and the turn of the last century. Only the Oz books standing on the bureau give it any definitive date."

Jim Daly Art Print Index
A-J
K-Z

How to Order

Internet - Visit the secure order form on our website to place an order
safely online.
Phone - Call us to place an order by telephone.
Fax - Fax us to place an order by facsimile.
Mail - Send check, cashiers check, or money order by mail. However,
please call us first for the shipping charges. Our address and local
telephone number can be found under contact information.


| | | |
| --- | --- | --- |
| | | Currently we accept all 4 major credit cards: Visa, MasterCard, American Express, and Discover. We also accept checks, cashiers checks, debit cards, and money orders. International money orders must be in U.S. funds if purchased outside the United States. |



Back to "Christ-Centered Art"

Bedtime Story copyright © 2001 by Jim Daly is prohibited from being copied.
All applicable © laws apply and are reserved by artist Jim Daly.
Web pages copyright © 1998-2006 by Christ-Centered Mall, Inc. All Rights Reserved.