Two Men in Conversation
Attempting to Put Things into
Proper Perspective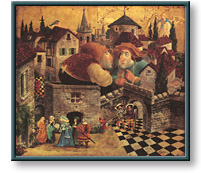 Click on the
for a closer look

| | | |
| --- | --- | --- |
| Title: | Artist: | Year of Release: |
| Two Men in Conversation Attempting to Put Things into Proper Perspective | James C. Christensen | 2001 |

Signed & Numbered Canvas Giclée
Image Size:
Edition Size
Original Issue Price
Our Price
17" x 19"
475 S/N
$495.00
$198.00
Place your order securely online or call us to place an order by phone.
This item comes with free shipping, handling, & insurance.

Print Description:

This piece was influenced by Gothic painting and manuscript illumination, but the departure point is, of course, a pun on the word 'perspective.' For centuries, old men in villages have sat around tables and philosophized, trying to put life into perspective. Here are two fellows — looming large because they're the main subjects of the image as well as the center of their own conversation — discussing the community around them, the different strata of society being represented by a nobleman, scholar, beggar, and so on. Once rumor and innuendo are nicely digested, this duo may chew on larger issues."

James C. Christensen Art Print Index
A-F
G-P
Q-Z

How to Order

Internet - Visit the secure order form on our website to place an order
safely online.
Phone - Call us to place an order by telephone.
Fax - Fax us to place an order by facsimile.
Mail - Send check, cashiers check, or money order by mail. However,
please call us first for the shipping charges. Our address and local
telephone number can be found under contact information.


| | | |
| --- | --- | --- |
| | | Currently we accept all 4 major credit cards: Visa, MasterCard, American Express, and Discover. We also accept checks, cashiers checks, debit cards, and money orders. International money orders must be in U.S. funds if purchased outside the United States. |



Back to "Christ-Centered Art"

Two Men in Conversation Attempting to Put Things into Proper Perspective copyright © 2001
by James C. Christensen is prohibited from being copied.
All applicable © laws apply and are reserved by artist James C. Christensen.
Web pages copyright © 1998-2006 by Christ-Centered Mall, Inc. All Rights Reserved.