The Royal Music Barque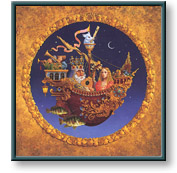 Click on the
for a closer look


Signed & Numbered Paper
Image Size:
Edition Size
Original Issue Price
Our Price
19" x 19"
2,750 S/N
$375.00
$178.00
Place your order securely online or call us to place an order by phone.
This item comes with free shipping, handling, & insurance.

Print Description:

You don't need to listen to a recording of George Frederick Handel's Water Music while viewing The Royal Music Barque, but it wouldn't hurt. "This piece has a little flavor of Handel's work," James Christensen says. Instead of an English king floating down the Thames, however, this image shows Christensen's fantasy revelers floating along to the music of the artist's imagination.

His creativity fueled by history and myth, Christensen has made this Royal Music Barque a feast for both eye and mind. "This ship, the instruments, and even the angel are based on things I've seen or researched," he says, "but I took off from there." The finished work is rich in detail. There is so much jewelry, filigree, decoration, and gilding that it inspired The Greenwich Workshop to take a new step into "the land a little left of reality."

The Royal Music Barque takes full advantage of the printer's craft as well as the painter's art. Clear-foil stamping makes the gems and filigree sparkle, and gold-foil stamping makes the royal flag and princess' hairband shine. A textured foil technique called "mezzotint" gives the king's robe the proper look of royalty, and sculptured embossing makes Christensen's oval frame into a golden portal, through which you can glimpse another world.

The barque's passengers include a musician king and his entourage. "The king's lion's-head lute is based on one I saw in the Victoria and Albert Museum music collection," Christensen explains. "The mouse seemed to sit nicely in the crow's nest. He makes the whole barque diminutive, because I'm more willing to accept a little king than a gigantic mouse. The mouse's instrument is a three-stringed ancestor of the violin. The angel has butterfly wings, and the bird is simply listening...or maybe doing vocals."

The Royal Music Barque, like all Christensen's work, is really just a starting point for your own imagination. Despite all its inspirations and antecedents, there are only a few sure things on this amazing boat ride. "It's evening, they're up in the sky, and it's a very pleasant thing that's happening," Christensen says. "From there, it's all up to you."

James C. Christensen Art Print Index
A-F
G-P
Q-Z

How to Order

Internet - Visit the secure order form on our website to place an order
safely online.
Phone - Call us to place an order by telephone.
Fax - Fax us to place an order by facsimile.
Mail - Send check, cashiers check, or money order by mail. However,
please call us first for the shipping charges. Our address and local
telephone number can be found under contact information.


| | | |
| --- | --- | --- |
| | | Currently we accept all 4 major credit cards: Visa, MasterCard, American Express, and Discover. We also accept checks, cashiers checks, debit cards, and money orders. International money orders must be in U.S. funds if purchased outside the United States. |



Back to "Christ-Centered Art"

The Royal Music Barque copyright© 1993 by James C. Christensen is prohibited from being copied.
All applicable © laws apply and are reserved by artist James C. Christensen.
Web pages copyright © 1998-2006 by Christ-Centered Mall, Inc. All Rights Reserved.