Serenade for an Orange Cat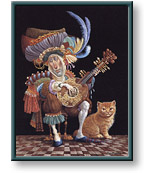 Click on the
for a closer look


Signed & Numbered Paper
Image Size:
Edition Size
Original Issue Price
Our Price
17 x 13.75"
3,000 S/N
$125.00
$238.00
Place your order securely online or call us to place an order by phone.
This item comes with free shipping, handling, & insurance.

Print Description:

Fish...ornate costumes...music. The combination of these three elements makes foremost fantasy artist James Christensen's Serenade for an Orange Cat and Piscatorial Percussionist prizes for both the confirmed fan or any new collector.

These two fun fellows have appeared in Christensen's successful book A Journey of the Imagination. Now they are offered as perfectly-sized Greenwich Workshop Cameo Collection prints — beautifully designed with a debossed image area for a more striking presentation in either home or office. Christensen, a dedicated cat lover, has his own ideas about what the finicky feline in Serenade for an Orange Cat is thinking. "You know cats," he says. "They rarely let on that they're enjoying anything."

James C. Christensen Art Print Index
A-F
G-P
Q-Z

How to Order

Internet - Visit the secure order form on our website to place an order
safely online.
Phone - Call us to place an order by telephone.
Fax - Fax us to place an order by facsimile.
Mail - Send check, cashiers check, or money order by mail. However,
please call us first for the shipping charges. Our address and local
telephone number can be found under contact information.


| | | |
| --- | --- | --- |
| | | Currently we accept all 4 major credit cards: Visa, MasterCard, American Express, and Discover. We also accept checks, cashiers checks, debit cards, and money orders. International money orders must be in U.S. funds if purchased outside the United States. |



Back to "Christ-Centered Art"

Serenade for an Orange Cat copyright © 1995 by James C. Christensen is prohibited from being copied.
All applicable copyright© laws apply and are reserved by artist James C. Christensen.
Web pages copyright © 1998-2017 by Christ-Centered Mall, Inc. All Rights Reserved.