Structural Flaws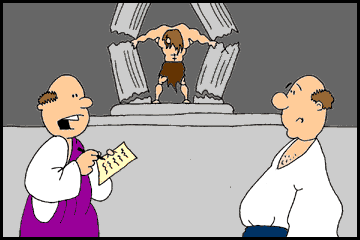 Caption

I just had a look around the building, and I found some pretty serious structural flaws!
Scriptural Application

"And Samson said unto the lad that held him by the hand, Suffer me that I may feel the pillars whereupon the house standeth, that I may lean upon them. Now the house was full of men and women; and all the lords of the Philistines were there; and there were upon the roof about three thousand men and women, that beheld while Samson made sport. And Samson called unto the LORD, and said, O Lord GOD, remember me, I pray thee, and strengthen me, I pray thee, only this once, O God, that I may be at once avenged of the Philistines for my two eyes. And Samson took hold of the two middle pillars upon which the house stood, and on which it was borne up, of the one with his right hand, and of the other with his left. And Samson said, Let me die with the Philistines. And he bowed himself with all his might; and the house fell upon the lords, and upon all the people that were therein. So the dead which he slew at his death were more than they which he slew in his life."

--- Judges 16:26-30





Back to the "Christ-Centered Mall"

All scans done by Christ-Centered Mall, Inc. are prohibited from being copied. All applicable copyright © laws apply and are reserved by Christ-Centered Mall, Inc. Illustrations copyright © Gospel Films & Reverend Fun. Web pages copyright © 1998.