Fishers of Men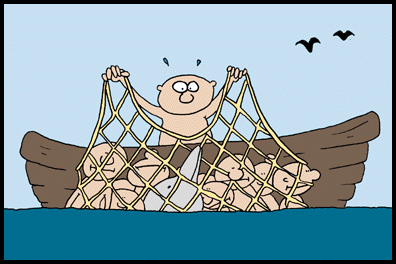 Caption

Fishers of men often get in trouble for catching dolphins in their nets.
Scriptural Application

"Now as he walked by the sea of Galilee, he saw Simon and Andrew his brother casting a net into the sea; for they were fishers.

And Jesus said unto them, 'Come ye after me, and I will make you to become fishers of men'."

--- Mark 1:16-17





Back to the "Christ-Centered Mall"

All scans done by Christ-Centered Mall, Inc. are prohibited from being copied. All applicable copyright © laws apply and are reserved by Christ-Centered Mall, Inc. Illustrations copyright © Gospel Films & Reverend Fun. Web pages copyright © 1998.