The Assignment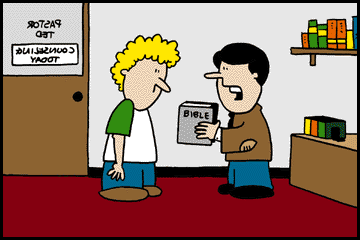 Caption

Read this twice and call me in the morning.
Scriptural Application

"Study to shew thyself approved unto God, a workman that needeth not to be ashamed, rightly dividing the word of truth."

--- II Timothy 2:15



Back to the "Christ-Centered Mall"

All scans done by Christ-Centered Mall, Inc. are prohibited from being copied. All applicable copyright © laws apply and are reserved by Christ-Centered Mall, Inc. Illustrations copyright © Gospel Films & Reverend Fun. Web pages copyright © 1998.