Sleeping Quarters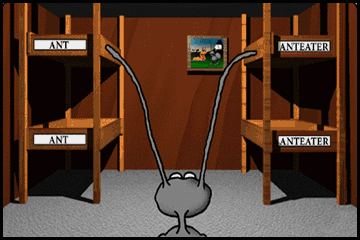 Caption

Sedgewick the Ant did not really appreciate the alphabetical sleeping arrangements on the ark.
Scriptural Application

"Have not I commanded thee? Be strong and of good courage; be not afraid, neither be thou dismayed: for the LORD thy God is with thee withersoever thou goest."

--- Joshua 1:9





Back to the "Christ-Centered Mall"

All scans done by Christ-Centered Mall, Inc. are prohibited from being copied. All applicable copyright © laws apply and are reserved by Christ-Centered Mall, Inc. Illustrations copyright © Gospel Films & Reverend Fun. Web pages copyright © 1998.